basicamente esse preço em € já está embutido a diferença de câmbio, compara esse etf com um EUR HEDGED
Qual é o código ISIN do ETF de mercados emergentes de que falas?
Ok obrigado pela informação. Não sabia que estava exposto à mudança de cambio neste produto.
Estive a ler um pouco e o pensamento normal é que é preferível a aposta por estes etfs e semelhantes e garantir que os Etfs de bonds ou são em euros ou hedged para diminuir o risco.
Amanhã aprofundo um pouco mais o conhecimento.
Sigo uma estratégia semelhante à que indicaste. Adicionalmente, vou comprando algumas ações de empresas nas quais tenho confiança, quando acho que surge uma boa oportunidade de investimento (e.g. SAP no final de Outubro).
Não percebi uma coisa, quando falas que vais precisar desse dinheiro para uma entrada numa casa, estás a referir te ao dinheiro que estás a aplicar nos ETF's ou no que tens em depósitos a prazo?
No reddit comparam os dois assim:
"The major difference is that IEMA doesn't invest in EM small-caps while EMIM does. By market cap EM small-caps would make up less than 2% of an all-world, all-cap portolio so personally I wouldn't really mind to leave out EM small-caps (also because of their high volatility).
However IEMA looks set up to risk doing worse in tracking its index than EMIM. IEMA invests in 923 out of 1.404 constituents of the index; leaving out 481 or 34%. EMIM invests in 2.703 out of 3.053 constituents of the index; leaving out 350 or 11%."
O que tenho nos depósitos a prazo. Ou seja não quero investir esse dinheiro neste momento.
Alguém aqui já investiu na juicy fields?
Ainda sobre o tema bitcoin, quem tivesse la metido dinheiro a data que inicialmente falamos comprava ai a 33/34 mil euros e tinha vendido ontem a 45 ou 46 mil euros. Ou seja, uma oportunidade de short selling fantastica
Com a volatilidade que a bitcoin tem experimentado e com a quantidade de novos experts em bitcoins e criptomoedas (ja perdi a conta a quantidade de criptomoedas que os meus amigos recomendam que vao explodir), nao consigo deixar de encontrar semelhancas com uma certa historia que nao se sabe se e real ou nao mas ilustra bem o que aconteceu em 1929
JOE KENNEDY, a famous rich guy in his day, exited the stock market in timely fashion after a shoeshine boy gave him some stock tips. He figured that when the shoeshine boys have tips, the market is too popular for its own good, a theory also advanced by Bernard Baruch, another vested interest who described the scene before the big Crash:

"Taxi drivers told you what to buy. The shoeshine boy could give you a summary of the day's financial news as he worked with rag and polish. An old beggar who regularly patrolled the street in front of my office now gave me tips and, I suppose, spent the money I and others gave him in the market. My cook had a brokerage account and followed the ticker closely. Her paper profits were quickly blown away in the gale of 1929."

Are we at the same fatal stage in the market today, when people who aren't expected to have stock tips have stock tips, including hot dog vendors, shoeshine boys, the homeless, pedicurists, barroom dancers, toll takers, and the trumpet player at the racetrack? Will stock prices fall off the cliff under the weight of enormous popularity?

A team of journalists (myself and reporter Melanie Warner) did an informal survey, with her in Manhattan and me at the other end of the East Coast, in Key West. She stopped the first cop she saw in Midtown and asked him for a stock tip. He said he owned Argentinian Telephone but couldn't recommend it, because in two years Evita Bell was off 35% and he was waiting for a rally so he could sell it. Otherwise, he's wary of stocks, but he did have a tip: Planet Hollywood, soon to be taken public. "I see all the people in there," he says, parroting a Peter Lynchism to buy where the crowd is thick. At this point we ask, Is it bad for equities when a cop who owns a stock he doesn't like recommends a stock he's afraid to buy?

At 51st and Broadway, Melanie encountered a Starbucks frothmeister in a dull moment between tall skinny decaf cappuccinos. She expected him to tip her off to Starbucks, but he didn't mention it. The last stock he owned was Amgen, which he got scared out of after two stock splits, although what was scary about a stock split he never explained. At the moment, his only exposure to equities is the Dreyfus Global Growth fund, so she was two for two with people invested abroad. Does this mean the end for the foreign markets?

The Starbucks guy finally did give a tip of sorts: a stock he wouldn't name. "It's a housewares company, but it isn't on the market yet, so I can't really talk about it," he said, sounding like a chastened Jeff Vinik.

A carpenter on a billboard crew dropped what he was doing to give a rundown on his portfolio: Pfizer, Intel, Disney, Morton International, GE, Olin Chemical, EuroDisney, and a few mutual funds. His one regret in the group is EuroDisney, down from $18 to $3. "My 8-year-old daughter might see a profit in that one, but I won't," he lamented.

The ID checker at a fitness club had sunk $5,200 in a Fidelity blue-chip fund with mediocre results. He also owns a little IBM, Coke, and U.S. Steel on the side, and he's looking at AT&T, Citicorp, and pharmaceuticals as potential buys. He thinks of the stock market as "almost like an ATM machine," which ought to ring Baruch's alarm bell, except that at the moment the ID checker is less than 100% bullish. He's bearish on high-tech stocks and Internet fads.

Finding a shoeshine boy on a corner proved impossible. Along with the paperboys, the shoeshine boys have been replaced by grownups who have moved the business indoors. Melanie tracked down a group of them who work the stirrups in a shoe repair shop. They had no stock tips. Even their agents who stand at the counter and handle the money had no stock tips. "We've got socks, not stocks," they told her. Only one man admitted to owning a mutual fund, and he said he sold out several years ago, just before the fund took off.

On the Key West pier, where vendors of all stripes assemble at sundown, stock tips were scarce. The biker with an iguana on his shoulder had no stock tip, nor did the juggler, the clown, the magician, the guy with three house cats, the earring vendor, or the snow cone salesman. The tarot card reader shook her head in bewilderment at the mention of Wall Street. The guy selling velvet sunset scenes had this advice: "Stay as far away from brokers as possible." I got a positive response from the proprietor of the Mail a Coconut booth, who said he was long technology stocks and got out with a big profit last December, about the same time the Fidelity Magellan fund was doing the same.

Based on our informal poll, the market has a way to go before everybody has a stock tip, although in New York City only the shoeshine people seem to lack one. The fact that Wall Street hasn't taken a shoeshine operation public is itself a sign that speculation is not as rampant as it could be. Still, we're a long way from 1982, when the Dow was below 1,000 and even the brokerage firms didn't have a stock tip.
A volatilidade não é nova. Causa é mais burburinho descer de 50 mil para 40 mil do que de 500 para 400.
queres dizer swing trading?
Yup, tens razao, o termo e esse. Nem sei se e possivel fazer short selling com bitcoins mas de qq forma era algo que eu investiria porque continuo convicto que em 3/4 meses o preco vai cair drasticamente.
Shortar uma coisa que pode duplicar em pouco tempo? Good luck
Edit: eu já shortei muita coisa nos últimos 5 anos e arrependi-me sempre. Se queres apostar contra algo usa derivados.
Se soubesses o dinheiro que já perdi a shortar isto ahaha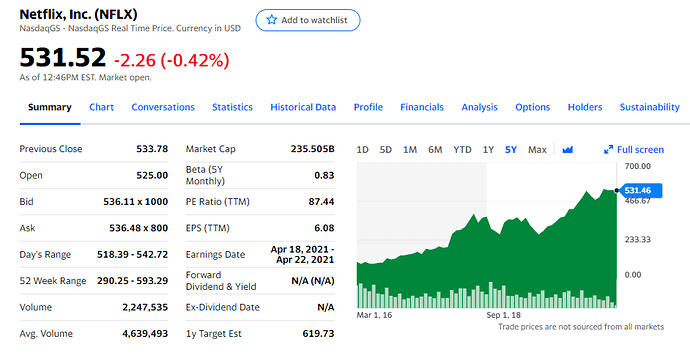 Mas continuo a comprar puts.
Só se for num ETF ou em activos que funcionam como proxy
$GME +100% hoje
+250%
Ahahaha são uns brincalhões estes gajos